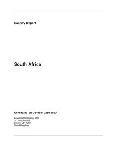 Country Report South Africa October 2017
October 2017 •
Report ID: 325964 •
Format: PDF
Outlook for 2018-22


The African National Congress (ANC) will remain in power, but internal divisions will deepen between supporters and opponents of the president, Jacob Zuma, who continues to face allegations of corruption and impropriety.
The ANC's five-yearly electoral summit in December 2017, when it will select a new leader to replace Mr Zuma, will have a lasting impact on the political scene. Mr Zuma will stay on as president until 2019, barring his early retirement.
A modest acceleration in real GDP growth to 1.9% is forecast in 2018, although the rate of expansion will remain subdued and is subject to downside risks. Growth will be similarly lacklustre in 2019-22, averaging 2.4% a year.
Inflation will ease to 5.2% in 2018, due to subdued domestic demand and cheaper oil, before averaging 5.6% a year in 2019-22.
The rand will remain vulnerable to local and global uncertainties. We expect the rand to average R15.66:US$1 in 2018 and R18.02:US$1 in 2019, before a more gradual fall to R21.5:US$1 in 2022.
The current-account deficit will widen slightly to 3.4% of GDP in 2018 and 4% of GDP in 2020, before narrowing again in 2021-22 to reach 3.3% of GDP at the end of the period, helped by an improved trade balance.


Review


Mr Zuma's small reshuffle in October removed the minister for higher education, Blade Nzimande, highlighting tensions between the president and the ANC's communist party allies, while retaining poorly performing but loyal ministers.
The Supreme Court of Appeal dismissed a bid by Mr Zuma and the National Prosecuting Authority (NPA) to prevent the reconsideration of corruption charges that were controversially dropped in 2019. The NPA must now revisit the decision.
The minister of finance has denied plans to force the Public Investment Corporation (PIC), which manages public-sector pensions, to bail-out struggling parastatals, but failed to allay concerns about the PIC a target for "state capture".
Real GDP growth edged up to 1.1% year on year in the second quarter of 2017, driven by strong growth in agriculture (after drought in 2016), and modest growth in mining, but performance in most other sectors was weak.
New vehicle sales expanded by 6.3% year on year in the third quarter, the fastest rate for several years, although aggregate sales in January to September grew by just 1.3%, because of a poor first-half performance.