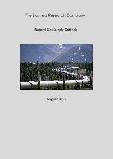 Natural Gas Supply Outlook
August 2015 •
70 pages •
Report ID: 3260673 •
Format: PDF
The report Natural Gas Supply Outlook foresees the following factors affecting gas supply in the US, Western Europe and China in the next ten years.

US - Shale gas will account for nearly half of total US gas production by 2040. Production volumes will continue to grow because of increased drilling efficiencies and more shale gas fields coming on stream.

The increased production is expected to decrease the country's dependence on imports from Canada. LNG exports from the US are expected to increase beginning 2016.

Use of natural gas in sectors other than electrical power production is expected to expand in the medium term. The fertilizer and chemical sector industries particularly are expected to start new projects driving long term demand.

Europe - Europe is likely to see declining local production and increasing imports from areas such as West Africa the US, Canada and North Africa, resulting in more LNG supply. Thus two thirds of Europe's natural gas needs are expected to be met by imports by the year 2025. With local production volumes expected to decline, and issues over the security of Russian gas, LNG imports are projected to approximately double between 2014 and 2020.

Due to the rise in investments in infrastructure, in particular new pipeline projects and the increased use of LNG, gas prices in Europe are likely to increase up to 2020. Prices are expected to stabilise beyond 2020.
Increases in natural gas consumption in Europe will be driven mainly by demand from the residential-commercial and industrial sectors from southern Europe and Turkey in 2015-25.

China - China's National Energy Administration (NEA) set the 2020 production target of shale gas at 30 billion cubic meters (1 trillion cubic feet), however TBRC believes much of China's unconventional gas reserves may prove difficult to exploit during this time frame.

By 2020, pipelines from Central Asia, Myanmar, Russia and imported liquefied natural gas mainly from Qatar and Australia are expected to play a major role in supplying a large part of China's gas.

As China tries to wean itself from its use of cheap coal gas is likely to play a larger part in the energy consumption mix. The Chinese government expects to increase natural gas's share of total energy consumption to around 8% by the end of 2015 and to 10% by 2020. BP plc predicts that China's natural gas consumption will rise 270% by 2035.