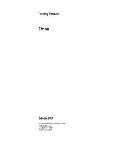 Country Forecast China October 2017 Updater
October 2017 •
Report ID: 329452 •
Format: PDF


The president, Xi Jinping, is set to strengthen his position emphatically at the five-yearly national congress of the Chinese Communist Party (CCP) opening on October 18th 2017. The Economist Intelligence Unit expects Mr Xi to use this enhanced power to maintain his conservative political agenda while overseeing a more aggressive effort to tackle systemic risks to the economy.
The dismissal in July of the Chongqing CCP secretary, Sun Zhengcai, pointed to Mr Xi's ambition to stay in power beyond 2022. Mr Sun was among the leading candidates to replace Mr Xi. An alternative for Mr Xi would involve elevating a loyal ally as heir-designate at the upcoming congress, such as Mr Sun's repayment in Chongqing, Chen Min'er.
Initial cordiality in US-China relations following the election of the US president, Donald Trump, is unlikely to last over the forecast period. Mr Trump's soft line towards China appears conditional on it doing more to rein in North Korea, but there are constraints to how far China will shift policy.
We believe that the government will make only partial progress on its supply-side structural reform economic agenda. Plans in some areas, such as reducing industrial overcapacity, will face local resistance, while a reluctance to impose hard budget constraints on state-owned enterprises will mean only partial success in corporate deleveraging.
Tackling financial sector risks will be a policy priority. A tightening in monetary policy evident in 2017 will be extended until 2020 as steps are taken to curb the credit boom. The tightening of monetary conditions will weigh on economic growth prospects. We forecast that real GDP growth will average 5.5% a year in 2018-22, with the slowdown concentrated in investment.
The authorities have adopted a more interventionist exchange-rate policy aimed at maintaining a stable renminbi. This ought to limit the scale of currency depreciation in the forecast period, although we still expect some weakening in the renminbi's value. Its weakest point is expected in 2020, when it is forecast to average Rmb7.25:US$1.
The size of the current-account surplus will narrow to a lower level, averaging the equivalent of 0.8% of GDP in 2018-22. Growth in goods imports will average 5.5% a year, outpacing expansion of 5.6% in exports. Meanwhile, the services deficit will expand markedly, mainly owing to demand for overseas travel services.