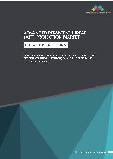 Advanced Persistent Threat Protection Market by Offering, Deployment Mode, Organization Size, Vertical And Region - Global Forecast to 2025
December 2020 •
246 pages •
Report ID: 3336746 •
Format: PDF
The global APT protection market size in the post-COVID-19 scenario is projected to grow from USD 5.2 billion in 2020 to USD 12.6 billion by 2025, at a CAGR of 19.5% during the forecast period. The major factors driving the market include the increasing number of security breaches and advanced cyberattacks such as zero-day exploits, persistent threats, malware, and ransomware; stringent government regulations towards adoption of APT protection policies; and proliferation of cloud based APT protection solutions and services.
• By solutions, the SIEM segment expected to hold the largest market size in 2025

SIEM collects security data from network devices, servers, and domain controllers; analyzes the stored data to discover trends; detects threats; and enables organizations to investigate any alerts.APT protection solutions supported with SIEM can help enterprises to resist APTs, detect signs at early stages and prevent major damage to corporation data.

APT protection tools fine-tuned with SIEM solutions offer a holistic 360-degree protection of a company's ecosystem for a customized security environment with quick and automated analysis of security events aligned with an enterprises' security policies. SIEM solutions monitor both real-time events and past data to detect anomalous and gain visibility into security and compliance violations.

APAC to register the highest growth rate during the forecast period
APAC countries comprises emerging economies, such China, Japan, Australia, and India.With the proliferation of AI, IoT, and big data in the APAC region, security and fraud concerns have risen.

APAC is expected to invest more in security owing to the increasing threat of APT attacks.Organizations in this region are also increasingly focusing on building long-term relationships with their users by providing security to their sensitive data and delivering customized experiences.

Organizations that deal with highly sensitive data are increasingly adopting APT protection solutions.With effective government regulations and technological advancements, the APT protection market is witnessing high growth opportunities in this region.

Machine Learning (ML), Internet of Things (IoT), big data analytics, and Artificial Intelligence (AI) are emerging methodologies that are being deployed in this region. APAC is home to large number of established Small and Medium-sized Enterprises (SMEs), which are growing at laudable pace to cater to their large customer base. SMEs are rapidly adopting APT protection solutions to manage their enterprise data. Despite the growing importance of SMEs in this region, they are most affected mostly by cyber and malware attacks owing to budgetary constraints and resource shortages.
• By Company Type: Tier 1 – 55%, Tier 2 – 27%, and Tier 3 – 18%
• By Designation: C-level – 33%, D-level – 25%, and Others – 42%
• By Region: North America – 38%, Europe – 14%, APAC – 19%, RoW – 29%

The technology vendors covered in the APT protection market report include Broadcom (US), McAfee (US), Kaspersky (Russia), Fortinet (US), FireEye (US), Raytheon Technologies (US), Sophos (UK), ESET (Slovakia), Palo Alto Networks (US), VMware Carbon Black (US), Microsoft (US), Cisco (US), Webroot (US), F-Secure (Finland), Trend Micro (Japan), and CyberArk (US).The start-up vendors covered in the APT protection market report are RevBits (US), Wijungle (India), BluVector (US), Aristi Labs (India), Securden (US), Red Sift (England), ZecOps (US), XM Cyber (Israel).

These players have adopted various growth strategies, such as partnerships, agreements and collaborations, new product launches and product enhancements, and acquisitions to expand their footprint in the APT protection market.

Research Coverage
The market study covers the APT protection market size across different segments.It aims at estimating the market size and the growth potential across different segments, including application, service model, security type, organization size, vertical, and region.

The study further includes an in-depth competitive analysis of the leading market players, along with their company profiles, key observations related to product and business offerings, recent developments, and market strategies.

Key Benefits of Buying the Report
The report will help the market leaders/new entrants with information on the closest approximations of the revenue numbers for the global APT protection market and its subsegments.This report will help stakeholders understand the competitive landscape and gain more insights to better position their businesses and to plan suitable go-to-market strategies.

Moreover, the report will provide insights for stakeholders to understand the pulse of the market and provide them with information on key market drivers, restraints, challenges, and opportunities.