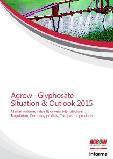 Agrow Glyphosate – Situation and Outlook 2015
October 2015 •
57 pages •
Report ID: 3482282 •
Format: PDF
This special report is comprehensively covers both the current situation and market outlook for glyphosate, including a spotlight on China.

Glyphosate is used in a wide variety of agricultural and non-crop situations. The main outlets are home and garden use, soybeans, maize, fruit and vegetables and cereals, but it can be found in almost every crop situation. It has long been the leading crop protection product by a considerable margin. Global sales in 2014 were estimated at around US$5.5 billion.

The future prospects for glyphosate will be determined by the following factors, which are all covered in-depth by the author:

Overall growth of the herbicide market driven by socio-economic factors such as replacement of hand weeding as labour costs increase. Development of no-till farming methods: there is scope for expansion in countries where it is already well established and penetration of new countries – e.g. in Europe.
Development of glyphosate tolerant (GT) crops: there is scope for launch of existing traits (e.g. in soybeans and maize) into countries where they are not yet established (e.g. China) and development of new GT crops such as GT wheat.
Evolution of weed resistance: to some extent this will depend on the success of strategies to control it. High levels of weed resistance have been seen for other products in the past but their sales not significantly negatively impacted.


Given the many positive drivers for glyphosate it is likely to product will continue on an upward sales trend although price volatility will remain a major issue, as will regulatory challenges, as discussed in the report. Copious data to illustrate these trends and developments is given throughout by the author.