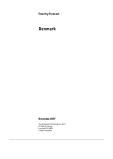 Country Forecast Denmark November 2017 Updater
November 2017 •
Report ID: 358945 •
Format: PDF


The centre-right "blue bloc" of the Liberal Party, the Danish People's Party (DF), the Liberal Alliance (LA) and the Conservative People's Party (KF) won a narrow victory in the June 2015 election, beating the centre-left "red bloc", which includes the former governing parties of the Social Democrats and the Social Liberal Party. The anti-immigration DF was the big winner, becoming the largest party in the blue bloc, but it opted to remain outside of the government.
After protracted parliamentary negotiations on the 2017 budget, in late 2016 the Liberal Party, headed by the prime minister, Lars Lokke Rasmussen, was joined in government by the LA and the KF. This tripartite coalition reduced the risk of an imminent government collapse. However, the government controls only 53 out of 175 parliamentary seats, meaning that the DF's 37 votes are still needed to ensure a majority. The Economist Intelligence Unit maintains its forecast that the government will fail to see out its full term to 2019.
Political instability has increased slightly, with the parties struggling to agree on a new 2025 growth plan, put forward by the Liberal Party. However, there has been progress in recent months. The ruling coalition reached an agreement on property tax and pension reforms. It also dropped planned tax cuts for those in the highest income bracket-a crucial measure for the LA-allowing the tax reform negotiations to go forward. However, the growth and tax initiatives, together with the 2018 budget have yet to be agreed. The government is facing a more united opposition from the Social Democrats and the DF, which in early 2017 confirmed their anti-reform alliance.
Immigration and European integration will remain high on the political agenda, as a new right-wing populist party, New Right (NB), will run in the next general election. In addition, the DF will maintain its considerable influence; on October 6th the party's proposal to create legislation to prohibit the wearing of burqas and niqabs in public was accepted by the government. We expect the DF to continue its efforts to tighten legislation on immigration and integration.
A strengthening and broad-based recovery in the euro zone, a rebound in global trade and business investment, and strong domestic private consumption (underpinned by a tight labour market, and low inflation and interest rates) will support economic growth this year, which we estimate at 2.6%. The economy will continue to grow at modest rates in 2018-22, at 1.9% on average.