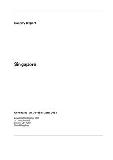 Country Report Singapore October 2017
October 2017 •
Report ID: 359745 •
Format: PDF
Outlook for 2018-22


The People's Action Party (PAP) will choreograph a leadership succession over the forecast period. The process is expected to be completed before the next legislative election, which is due by January 2021.
The Economist Intelligence Unit expects the PAP to easily retain its dominant position in the 2021 election. The administration will continue to succeed in salient economic management.
The Economist Intelligence Unit expects the Monetary Authority of Singapore (MAS, the central bank) to maintain a loose monetary policy stance in 2017-18, before it looks to "normalise" its policy settings from 2019.
On the back of healthier external demand conditions, we estimate real GDP to grow by 2.9% in 2017, before decelerating to 2.4% per year on average in 2018-22 owing to economic slowdowns in China and the US in this period.
Rising global prices for oil and industrial products will support consumer prices (albeit unevenly), which will increase by an average annual rate of 1.2% in 2018-22.
Despite softer export growth in 2018-20, Singapore will continue to run a hefty current-account surplus, equivalent to 15.9% of GDP in 2022. The services, primary and secondary income accounts will remain in deficit.


Review


On September 19th-21st the Singaporean prime minister, Lee Hsien Loong, made a state visit to China. This comes at a time when Singapore will be assuming the chair of ASEAN in 2018.
The senior minister of state for defence and foreign affairs, Mohammad Maliki Bin Osman, paid an official visit to the UAE as part of Singapore's ongoing engagement and interaction with Gulf Co-operation Council member states.
Data released by the Department of Statistics on September 26th showed that manufacturing output increased by 19.1% year on year in August. Excluding the biomedical sector, output grew by 17.8%.
On October 2nd the Urban Redevelopment Authority published preliminary data showing a rise of 0.5% quarter on quarter in private home prices in the third quarter of 2017. These data break 14 consecutive quarters of decline in property prices.
On September 25th the Department of Statistics published inflation data showing that consumer price inflation eased to 0.4% year on year in August, from 0.6% in July.