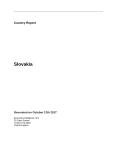 Country Report Slovakia October 2017
October 2017 •
Report ID: 359747 •
Format: PDF
Outlook for 2018-22


After the March 5th 2016 general election the centre-left Direction-Social Democracy (Smer-SD), which had led a single-party majority government since 2012, remained the largest party but lost its absolute majority.
Smer-SD now leads a coalition government including the conservative Slovak National Party (SNS) and the centre-right Bridge-Party of Co-operation (Most-Hid). The centre-right Network (Siet) left the government in August 2016.
A coalition crisis in August 2017 highlighted the relatively high risk of the coalition not sitting out its four-year term. Nevertheless, at the moment none of the parties has an incentive to call an early election.
The government has set ambitious deficit targets. The Economist Intelligence Unit considers these to be over-optimistic, but expects the deficit to stay within the EU limit of 3% of GDP and to narrow gradually, from 1.4% in 2017.
Despite losing the boost from EU-funded investment in 2015, growth remained strong last year, at 3.3%. We expect broad-based growth in the coming years, at 3.3% on average in 2017-22.
A car plant under construction by Jaguar Land Rover will help to drive growth in the coming years. In 2017-18 construction of the plant will push up imports; the start of production will add to growth and exports from 2018.
Headline inflation turned positive in late 2016. Base effects, the rise in oil prices and continued GDP growth will push up inflation to 1.4% on average in 2017. Wage pressures will push inflation to 2% on average in 2018-22.
The current account moved into a modest deficit in 2016, which we expect to narrow slightly this year. From 2018 we expect rising trade surpluses to lead to small current-account surpluses, of around 1% of GDP in 2018-22.


Review


In its budget for 2018-20 the government plans to reduce the deficit mainly by increasing revenue through closing loopholes and fighting tax evasion. It plans to run a deficit of 0.8% of GDP in 2018 and reach a balanced budget by 2020.
In September Marian Kotleba, the leader of the far-right People's Party-Our Slovakia (L'SNS), announced that he would run in the local elections in November to win a second term as governor of the Banska Bystrica region.
In August annual EU harmonised consumer price inflation (HICP) was 1.6%, up from 1.2% on average in the previous three months. This was the fastest rate of inflation in over four years, mainly driven by rising food prices.
In September the economic sentiment indicator improved sharply, to 104.8, from 102.4 a month earlier, 0.8 points above its long-term average and 1.8 points above its year-earlier level.