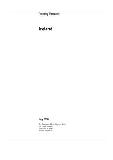 Country Forecast Ireland May 2018 Updater
May 2018 •
Report ID: 360622 •
Format: PDF


The minority coalition government led by Leo Varadkar is fragile and unlikely to have the capacity to address the mounting economic and political challenges facing the country. The Economist Intelligence Unit's baseline forecast that the government will not survive until the end of the parliamentary term in 2021 remains unchanged following the government's near collapse in November 2017. We expect a pre-term general election in the second half of 2018/early 2019. Voter disillusionment with the mainstream parties is likely to result in a highly fragmented parliament after the next election, which will complicate government formation.
Ireland's main strengths are its open policy towards foreign investment, a skilled and flexible labour market, and an attractive corporate tax regime. However, the UK's departure from the EU could have negative economic consequences for Ireland and could complicate relations with the EU and Northern Ireland. International scrutiny of Ireland's low-tax regime has increased, but we expect the government to resist pressure to raise its low 12.5% corporation tax rate.
The policies of the US administration led by the Republican president, Donald Trump, could have potentially negative effects on Ireland's small, open economy. The Trump administration has proposed trade restrictions and passed a tax reform that aims to encourage US corporates to repatriate more of their profits.
We forecast that the budget deficit will widen gradually, from 0.2% of GDP in 2018 to a still moderate 0.9% in 2022, as solid revenue growth partially offsets higher interest and other government spending. We forecast that upward revisions to GDP in 2015 and moderate primary surpluses during the forecast period (2018-22) will lower the public debt/GDP ratio, to 58% in 2022.
Official GDP figures will remain an unreliable measure of domestic economic activity, owing to the substantial presence of foreign multinational companies with headquarters in Ireland. We expect annual average real GDP growth to slow from 7.8% in 2017 to 4.5% in 2018 and an average of 3.4% in 2019-22. Large upward revisions to the national accounts have resulted in similar-scale revisions to Ireland's external accounts. We expect the current-account surplus to narrow from 12.8% of GDP in 2017 to an average of 5.7% per year in 2018-22.