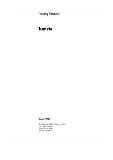 Country Forecast Tunisia June 2018 Updater
June 2018 •
Report ID: 360691 •
Format: PDF


Tunisia will continue to face severe social, security and economic challenges. A fragmented political landscape will mean that ideologically diverse coalition governments are the norm, making agreement over the measures needed to tackle the challenges harder to reach.
The president's efforts to strengthen his powers are unlikely to succeed given the fierce resistance such a proposal has faced in the past from civil society groups and the public as they fear that it would lead to a return to autocracy.
Tunisia will adopt a first-past-the-post electoral system before the parliamentary election in 2019. The change is likely to result in a coalition government with fewer constituent parties, providing the ruling government with better stability.
Bouts of violent protest and social unrest are likely to continue because of discontent with the government, although many Tunisians with vivid memories of the pre-revolution regime will not want to see the downfall of democracy.
Despite tighter security, it is likely to prove impossible to prevent all acts of terrorism. Returning jihadis from Syria and Iraq, as well as the ongoing instability in neighbouring Libya, will make it hard for the Tunisian authorities to provide security.
Although Tunisia's governments will push for the sort of liberalising economic reforms encouraged by key donors, the country's trade unions and employers' association will oppose these policies, as a result of which the fiscal deficit will come down only slowly.
Economic growth will pick up moderately as the forecast period progresses. Only limited pro-business reforms are likely against the backdrop of a fractious political scene, and tourism and industry remain exposed to terrorism and social unrest respectively.
The Tunisian dinar's downward trajectory is set to continue, but at a slower pace, as social and political uncertainty remains high. In addition, election-related volatility is likely in 2019.
Export performance will improve slowly as industrial commodity production increases and tourists return to the country, which will also be supported by the weakness of the dinar against the euro and the US dollar. However, import demand will also pick up, and so the current-account deficit will remain substantial.