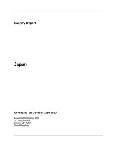 Country Report Japan October 2017
October 2017 •
Report ID: 360766 •
Format: PDF
Outlook for 2018-22


The Economist Intelligence Unit expects the ruling coalition, led by the Liberal Democratic Party (LDP), to dominate the political scene in 2018-22, whether under the current prime minister, Shinzo Abe, or a different LDP leader.
The threat emanating from North Korea will encourage security co-operation between Japan and South Korea, but this is unlikely to lead to a broader improvement in diplomatic relations between the two countries.
Upward pressure on public spending, especially for social services, will intensify in 2018-22. The government will fail to achieve its goal of moving the primary budget balance into surplus by fiscal year 2020/21 (April-March).
The Bank of Japan (BOJ, the central bank) will maintain an ultra-loose mone-tary policy stance in the early part of the forecast period. However, we do not expect its 2% target for core consumer price inflation to be met in 2018-22.
We expect real GDP to grow by an annual average of 1% in 2018-22. This rate of expansion masks a relatively high degree of volatility, driven by anticipated economic slowdowns in China and the US, in 2018 and 2020 respectively.
The yen will appreciate against the US dollar over 2018-22. In 2018 this trend will be driven by the yen's safe-haven status, but a change in the country's monetary policy settings from 2019 will exert upward pressure.


Review


Mr Abe dissolved parliament on September 28th, paving the way for a snap election for the House of Representatives (the lower house of parliament) on October 22nd.
On September 28th the main opposition Democratic Party agreed to disband and join forces with a new political party, Kibo no To (Party of Hope). The latter is led by Yuriko Koike, the governor of the capital, Tokyo.
North Korea launched a ballistic missile over Japan's airspace in a test on September 15th. The test is the second of its kind in as many months.
On September 21st the US president, Donald Trump, met Mr Abe and the South Korean president, Moon Jae-in, on the sidelines of the UN General Assembly meeting in New York to discuss the North Korean issue.
On September 8th the Cabinet Office revised down real GDP growth in the second quarter of 2017 to 1.4% year on year (on a non-seasonally adjusted basis), compared with a provisional 2% increase published in August.
According to provisional data released by the Ministry of Finance, the value of merchandise exports surged by 18.1% year on year in August, while imports increased by 15.2%.