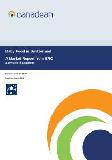 Baby Food in Switzerland, Canadean Ltd
March 2016 •
71 pages •
Report ID: 3716465 •
Format: PDF
Summary
The Swiss market has seen steady volume growth throughout most of the review period, partly as a result of continued annual increases in the number of live births up to 2014 but also as a result of higher per capita consumption levels of all the major product types. There has been a significant rise in the popularity of convenience foods - ready-to-eat and ready-to-cook products which often contain high amounts of fat, salt and sugar, attributed to increased numbers of Swiss women entering the workforce. Organic food has gone from strength to strength, although evidence of health benefits remains inconclusive.

Key Findings
- The Swiss market was boosted by annual increases in the number of births up to 2014, although 2015 is likely to see an appreciable fall in both births and sales. Over the review period between 2009 and 2015 baby food sales rose by 11.6% in volume.

- Baby milks dominate the market, accounting for 53.6% of value sales and 42.7% of volume sales in 2015. Wet meals accounted for 18.1% of value sales in 2015, up from just 15.8% in 2009.

- Nestlé leads overall; it is present in every sector, leads jointly in milks and is leader in cereals and meals. Second place is held by Danone via its Milupa subsidiary.

- The Swiss baby food market is expected to grow by an overall 19.3% in current price terms between 2015 and 2021, although this falls to 12.7% in constant price terms.

Synopsis
"Baby Food in Switzerland" is an analytical report by Canadean which provides extensive and highly detailed current and future market trends in the Switzerland market.

What else does this report offer?

- Consumption data based upon a unique combination of industry research, fieldwork, market sizing work and our in-house expertise to offer extensive data about the trends and dynamics affecting the industry.

- Detailed profile of the companies operating and new companies considering entry in the industry along with their key focus product sectors.

- Market profile of the various product sectors with the key features and developments, segmentation, per capita trends and the various manufacturers and brands.

- Overview of baby food retailing with a mention of the major retailers in the country along with the distribution channel.

- Future projections considering various trends which are likely to affect the industry.

Reasons To Buy
- Evaluate important changes in consumer behaviour and identify profitable markets and areas for product innovation.

- Analyse current and forecast behaviour trends in each category to identify the best opportunities to exploit.

- Detailed understanding of consumption by individual product categories in order to align your sales and marketing efforts with the latest trends in the market.

- Investigates which categories are performing the best and how this is changing market dynamics.