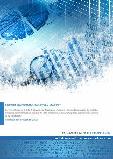 Europe Radioimmunoassay Market By Type, by Application, by End User, & By Geography-Analysis & Forecast to 2020
October 2015 •
101 pages •
Report ID: 3859366 •
Format: PDF
The research report categorizes the Europe radioimmunoassay (RIA) market by type into two segments: analyzers and reagents & kits. Based on application, the market has been segmented into research and clinical diagnostics, providing exhaustive value analysis for 2014 as well as forecast up to 2020. The end users include hospitals, clinical diagnostics labs, academics, pharmaceutical industry and CRO, & others. The market is comprehensively analyzed at a granular level based on geography, into Germany, France, U.K., Italy, Spain, and Rest of the Europe to provide in-depth information.

The technique of radioimmunoassay (RIA) is advanced and sensitive enough to find small molecules in the blood, and is therefore used for research purposes and diagnosis of diseases, such as cancer. This technique is also implemented by organizations and research labs for research purposes using serum from animals or humans. The new range of immunoassay kits and analyzers provide remedies for autoimmune diseases, such as diabetes. These are widely used in the process of drug discovery and screening in blood banks.

Radioimmunoassay (RIA) is one of the pivotal and traditional methods used for the testing of endocrinological disorders. RIA also has prominent usage in the field of neurodegenerative disorders. In spite of the high precision, robust nature, and impeccable sensitivity, the global radioimmunoassay (RIA) market has been witnessing a slow growth in terms of market values and kit volumes. This can be attributed to the paradigm shift in the adoption of alternatives, such as, ELISA, chemiluminescence assay, immunofluorescence assay, & other non-radio techniques and lack of automation.

In Europe, many clinical laboratories are taking measures to remove RIA tests off their shelf; ELISA has been instrumental in taking over the RIA tests. European Greens has been instrumental in maintaining environmental responsibility across geographies. The utilization of radioactive substances in RIA procedures poses a threat to environment and human health. Thus, the political scenario has negatively impacted the use of RIA tests in Europe due to the conscious effort from the European Greens. In spite of the above-mentioned dynamics, Europe captures a major market share in RIA globally. Majority of the RIA manufacturers are based out of Europe, thus claiming a strong footprint in Europe.

In-depth market share analysis, by revenue, of the top companies is also included in the report. These numbers are arrived at, based on key facts, annual financial information from SEC filings, annual reports and interviews with industry experts, key opinion leaders such as CEOs, directors, and marketing executives. In addition, the report also profiled key players of the market on various parameters such as business overview, financial overview, product portfolio, business strategies and recent developments of the respective company. The major players in the radioimmunoassay are IBL International (A Tecan Company) (Germany), Cisbio (France), DiaSorin S.p.A. (Italy), Izotop (Hungary), Berthold Technologies GmbH & Co. KG (Germany), and Stratec Biomedical AG (Germany), Euro Diagnostica AB (Sweden), DIAsource ImmunoAssays SA (Belgium), PerkinElmer, Inc. (U.S.), MP Biomedicals, LLC (U.S.), DRG International, Inc. (U.S.), & Beckman Coulter, Inc. (U.S.).