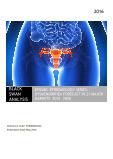 Epiomic Epidemiology Series: Dysmenorrhea Forecast in 21 Major Markets 2016-2026
May 2016 •
54 pages •
Report ID: 3876349 •
Format: PDF
Black Swan Analysis Epiomic™ Epidemiology Series Forecast Report on Dysmenorrhea in 21 Major Markets

Dysmenorrhoea is a common menstrual complaint, also known as painful menstruation. It is defined as severe, painful cramping in the lower abdomen beginning shortly before or at the onset of menses. Dysmenorrhoea is often accompanied by other symptoms such as sweating, headaches, nausea, vomiting and diarrhoea. Dysmenorrhea only affects women during their fertile years.

There are two main categorisations of Dysmenorrhoea: Primary (generally associated with females less than 20 years of age with no identifiable cause) and Secondary (usually caused by presence of another pelvic condition such as endometriosis). Please note that this report mainly focuses on primary Dysmenorrhoea.

This report provides the current 12-month prevalent population for Dysmenorrhea across 21 Major Markets (USA, France, Germany, Italy, Spain, UK, Poland, Portugal, Sweden, Croatia, Switzerland, Japan, China, India, Australia, Canada, Turkey, Saudi Arabia, Egypt, Brazil and Mexico) split by 5-year age cohort. Along with the current prevalence, the report also contains a disease overview of the risk factors, disease diagnosis and prognosis along with specific variations by geography and ethnicity.

Providing a value-added level of insight from the analysis team at Black Swan, several of the main symptoms and co-morbidities of Dysmenorrhea have been quantified and presented alongside the overall prevalence figures. These sub-populations within the main disease are also included at a country level across the 10-year forecast snapshot.

Risk factors or conditions associated with developing primary Dysmenorrhea include:
• BMI (low or high)
• Smoking (inconclusive)
• Family history of dysmenorrhea
• Early age at menarche
• Nulliparity
• Exercise level / fitness

This report is built using data and information sourced from the proprietary Epiomic patient segmentation database. To generate accurate patient population estimates, the Epiomic database utilises a combination of several world class sources that deliver the most up to date information from patient registries, clinical trials and epidemiology studies. All of the sources used to generate the data and analysis have been identified in the report.

Reason to buy
• Able to quantify patient populations in global Dysmenorrhea's market to target the development of future products, pricing strategies and launch plans.
• Gain further insight into the prevalence of the subdivided types of Dysmenorrhea and identify patient segments with high potential.
• Delivery of more accurate information for clinical trials in study sizing and realistic patient recruitment for various countries.
• Provide a level of understanding on the impact from specific co-morbid conditions on Dysmenorrhea's prevalent population.
• Identify sub-populations within Dysmenorrhea which require treatment.
• Gain an understanding of the specific markets that have the largest number of Dysmenorrhea patients.