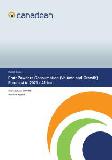 Fruit Powders Consumption (Volume and Growth) Forecast to 2021 - Africa
April 2016 •
22 pages •
Report ID: 3889217 •
Format: PDF
Summary
Canadean's, Fruit Powders Consumption (Volume and Growth) Forecast to 2021 - Africa, report is a comprehensive report, covering Fruit Powders consumption in Africa market. The quantitative data in the report provides historic and forecast Fruit Powders consumption data by country in Volume (M Liters).

The report considers, Fruit Powders as a non-ready-to-drink (non-rtd) products in powder form which are 'almost rtd (dosage)' products where a fruit powder portion is sold together with a water serving. This report includes top level Fruit Powders consumption actual data for 2010 - 2014, provisional data for 2015; while forecasts are provided for 2016 - 2021 across 2 individual countries. The countries covered in the report are Nigeria and South Africa.

This report is the result of Canadean's extensive market research covering the Fruit Powders market in Africa. It provides a top-level overview and detailed insight into the operating environment for the Fruit Powders market in Africa. It is an essential tool for companies active across the Fruit Powders value chain and for new players that are considering entering the market.

Synopsis
- Overall data analysis of the Fruit Powders market in Africa.

- Historic and forecast consumption values for Fruit Powders covering 2010-2014, 2015 provisional data and forecasts for 2016- 2021.

Reasons To Buy
- The report provides you with important figures for the Fruit Powders market in Africa with individual country tables and charts.

- Enhances your knowledge of the market with key figures on consumption values for the historic period.

- Supports you in planning future business decisions using forecast figures for the market.