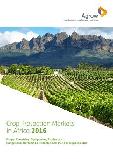 Agrow Crop Protection Markets in Africa 2016
April 2016 •
166 pages •
Report ID: 3937866 •
Format: PDF
This comprehensive report covers the crop protection industry and value chain in Africa – for Fungicides, Herbicides, Insecticides, Plant Growth regulators, and Biopesticides.

All 16 countries covered have distributor-level sales of US$20 million or more, with more in-depth profiles given for Egypt, Morocco, C?te d'Ivoire, Ghana, Kenya, and South Africa, which have crop protection markets each valued in excess of $50 million, and together represent approximately 60% of the African market.

Crops covered include maize/corn; wheat; vegetables; rice; cotton; soybeans; coffee; sorghum; sunflower; tea; banana; pineapple; dry beans; cassava; oil palm; and several others.

Major companies covered will include Syngenta; Bayer CropScience; BASF; Dow AgroSciences; DuPont; FMC; Monsanto; ADAMA; Arysta; Sumitomo; UPL; and others.