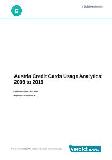 Austria Credit Cards Usage Analytics: 2009 to 2019
July 2016 •
32 pages •
Report ID: 3957410 •
Format: PDF
Summary
Austria Credit Cards Usage Analytics: 2009 to 2019; is an exhaustive research report outlaying Credit Cards usage in Austria. The report provides year on year statistics on Number of Cards issued, Average Balance, Average Transaction value, Outstanding Balance, Frequency of use, Turnover, Value and Number of Transactions for the period 2009 to 2019.

Key Findings
Verdict Financial considers Credit Card as a revolving payment card providing consumers with access to a line of credit. Consumers make payments using their card and receive a bill at the end of the billing cycle. The card issuer usually demands a minimum payment against the outstanding balance, but beyond this the customer can choose how much of the bill he wishes to repay, up to and including 100% of the balance outstanding. Any balances that are not repaid within the interest-free period offered by the card incur interest at the rate advertised by the card issuer. A revolving credit card may or may not be linked to a customer's bank account.

The report "Austria Credit Cards Usage Analytics: 2009 to 2019" is the result of Verdict Financial's extensive market research covering the cards and payments industry in Austria. It provides detailed historic and forecast statistics on credit cards usage along with all related parameters like Outstanding's, Average Transactions value and Number of Transactions, Turnover per card and many more.

Verdict Financial's "Austria Credit Cards Usage Analytics: 2009 to 2019" report acts as an essential tool for companies active across the Austrian cards and payments value chain and for new players considering entering the market. The comprehensive statistics within the report provides insight into the operating environment of Credit Cards in Austria and also ensures right business decision making based on historical trends and industry model based forecasting.

Synopsis
"Austria Credit Cards Usage Analytics: 2009 to 2019" provides the readers with historic and forecast statistics for credit cards usage in Austria for the period 2009 through to 2019

In particular, it provides the following statistics:
- Credit Cards Issued
- Average balance per card
- Average transaction value
- Balances outstanding
- Frequency of use
- Number of transactions
- Turnover per card
- Value of transactions

Reasons To Buy
- Enhance your knowledge on credit card usage in Austria.

- Understand how the credit card market in Austria has performed in the historic period including quantitative data for transactions, value of transactions, cards in use and balances per card.

- Plan future business strategies utilizing the industry model based forecasts.