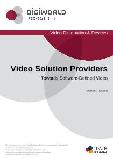 Video Solution Providers - Towards Software-Defined Video
July 2016 •
Report ID: 3961381 •
Format: PDF
This report analyses the rollout of new IP-based video management and distribution solutions. This includes extensive company profiles which describe the positioning of leading players coming from the TV industry, telecom and IT equipment suppliers, Internet giants and start-ups.

It catalogues in detail the major trends in the market including concentration and vertical integration, trade-offs and greater softwarisation of solutions.

Among the key questions examined are how far will the use of IP-based solutions grow in the future? Will the concept of software-defined video develop on a large scale and, going a step further, will virtualisation be the next big thing in the market?

Finally, it is anticipated that the market of OTT professional video distribution will grow by close to 25% per year up to 2020. Given, though, the tensions on unit prices, increasing internalisation and competition, the growth in value will be lower than in volumes.