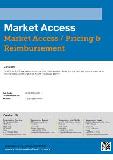 Access in Emerging Markets: HTA is Making Inroads
April 2015 •
119 pages •
Report ID: 4035368 •
Format: PDF
Faced with tough competitive conditions and declining growth rates, many pharma companies are looking towards emerging markets as sources of revenue growth. Growing economies and a burgeoning middle class, as well as expanding healthcare systems, have resulted in high growth rates and increased demand for Western medicines.

However, as developing countries strive to improve access to healthcare by expanding insurance coverage and investing in healthcare system infrastructure, growing patient expectations are increasingly forcing them to find a way of reconciling demand with limited resources. Consequently, governments and policymakers have begun to utilize health technology assessment to this end, and this new trend has changed the market access landscape and the way in which pharma interacts with key stakeholders.

This report addresses the following questions:
- How is HTA use impacting access in emerging markets?
- What are the differences between HTA use in different emerging market countries?
- How have pharma's strategies adapted in reaction to the changes brought about by HTA?
- What channels exist for pharma-HTA engagement?
- What are the key lessons for success in overcoming hurdles presented by HTA in emerging markets?