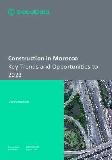 Construction in Morocco - Key Trends and Opportunities to 2023
August 2019 •
50 pages •
Report ID: 4126849 •
Format: PDF
Construction in Morocco - Key Trends and Opportunities to 2023

Summary
Morocco's construction industry registered minimal growth in 2018, with output growing at 0.6% in real terms; this was preceded by annual growth rates of 1.6% in 2016 and 0.7% in 2017. The industry's output value, measured at constant 2017 US dollar exchange rates, increased from US$14.1 billion in 2017 to US$14.2 billion in 2018.

This slow growth can be attributed to the government's efforts to reduce the fiscal deficit, reduced investments in commercial and industrial construction projects due to delayed payments and delays in the signing contracts between investors and the government. Overall, the industry posted minimal growth during the review period (2014-2018), registering a compound annual growth rate (CAGR) of 0.91% in real terms.

The industry's output value in real terms is expected to rise at a CAGR of 3.46% over the forecast period (2019-2023). The industry is consequently expected to rise from a value of US$14.2 billion in 2018 to US$16.9 billion in 2023, measured at constant 2017 US dollar exchange rates.

Residential construction was the largest market in the Moroccan construction industry during the review period, accounting for 30.9% of its total value in 2018. The market is expected to follow a similar trend over the forecast period, with residential construction accounting for 31.3% of the industry's total value in 2023. Commercial construction accounted for 20.6% of the industry's total output in 2018, followed by infrastructure construction with 17.5%, institutional construction with 15.4%, energy and utilities construction with 9.9% and industrial construction with 5.8%.

The total construction project pipeline in Morocco including all mega projects with a value above US$25 million - stands at MAD602.1 billion (US$65.7 billion). The pipeline, which includes all projects from pre-planning to execution, is skewed towards late-stage projects, with 56.3% of the pipeline value being in projects in the pre-execution and execution stages as of August 2019.

Scope
This report provides a comprehensive analysis of the construction industry in Morocco.

It provides -
- Historical (2014-2018) and forecast (2019-2023) valuations of the construction industry in Morocco, featuring details of key growth drivers.
- Segmentation by sector (commercial, industrial, infrastructure, energy and utilities, institutional and residential) and by sub-sector
- Analysis of the mega-project pipeline, including breakdowns by development stage across all sectors, and projected spending on projects in the existing pipeline.
- Listings of major projects, in addition to details of leading contractors and consultants

Reasons to buy
- Identify and evaluate market opportunities using our standardized valuation and forecasting methodologies.
- Assess market growth potential at a micro-level with over 600 time-series data forecasts.
- Understand the latest industry and market trends.
- Formulate and validate strategy using our critical and actionable insight.
- Assess business risks, including cost, regulatory and competitive pressures.
- Evaluate competitive risk and success factors.