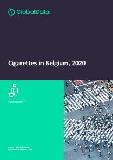 Cigarettes in Belgium, 2020
September 2020 •
79 pages •
Report ID: 4144550 •
Format: PDF
Cigarettes in Belgium, 2020

Summary
Cigarettes in Belgium, 2020 is an analytical report that provides extensive and highly detailed current and future market trends in the tobacco market in Belgium.It covers market size and structure along with per capita and overall consumption.

Additionally, it focuses on brand data, retail pricing, prospects, and forecasts for sales and consumption until 2030.

The Belgian market has traditionally been linked with the neighboring Luxembourg market, due to the customs union between the two countries (Union Economique de Belgique & Luxembourg, or UEBL) although they have separate tax regimes and distinct market characteristics. Belgium is by far the largest in terms of population, and consequently cigarette consumption but, although the population in Luxembourg is much smaller, its significance is relatively greater in terms of cigarette sales due to the lower tax levels applied there and the impact of cross-border purchasing.

Scope
- Volumes were down at 24,880 million pieces in 2018, which is 53.8% of their level in 1990. A further fall to 23,015 million pieces was forecasted for 2019.
- The market continued to be led by Imperial Tobacco Canada (ITC), a British American Tobacco (BAT) subsidiary, with a share of 48.7% of legal volume in 2019
- Per capita consumption in 2030 is forecast at 420 pieces, 26.3% below 2020 levels.

Reasons to Buy
- Get a detailed understanding of consumption to align your sales and marketing efforts with the latest trends in the market.
- Identify the areas of growth and opportunities, which will aid effective marketing planning.
- The differing growth rates in regional product sales drive fundamental shifts in the market.
- This report provides detailed, authoritative data on these changes - prime intelligence for marketers.
- Understand the market dynamics and essential data to benchmark your position and to identify where to compete in the future.