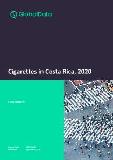 Cigarettes in Costa Rica, 2020
September 2020 •
42 pages •
Report ID: 4144560 •
Format: PDF
Cigarettes in Costa Rica, 2020

Summary
Cigarettes in Costa Rica, 2020 is an analytical report that provides extensive and highly detailed current and future market trends in the tobacco market in Costa Rica.It covers market size and structure along with per capita and overall consumption.

Additionally, it focuses on brand data, retail pricing, prospects, and forecasts for sales and consumption until 2030.

Costa Rica is a relatively small market for cigarettes with legitimate sales of 1,430 million pieces in 2019 or 68.1% of their level in 1990. In per capita terms, consumption is moderate to low at 286 pieces per person in 2019 and has fallen by 58.8% since 1990. Imports were up at 1,340 million pieces in 2019, Exports stood at three million pieces in 2018.Sales are forecast at 1,390 million pieces in 2030 which is 0.7% down on 2020. Per capita consumption over the coming decade is predicted to drop by 9.1% to 250 pieces in 2030.

Scope
- In Costa Rica Contraband has had an impact on the sector with volumes fluctuating as contraband levels have waxed and waned.
- The market includes a mix of local, regional, and international brands.
- The non-duty paid market is likely to be dominated by American blends rather than other local or regional products, as American blends offer the greater profit potential as well as the greater saving potential to the consumer.

Reasons to Buy
- Get a detailed understanding of consumption to align your sales and marketing efforts with the latest trends in the market.
- Identify the areas of growth and opportunities, which will aid effective marketing planning.
- The differing growth rates in regional product sales drive fundamental shifts in the market.
- This report provides detailed, authoritative data on these changes - prime intelligence for marketers.
- Understand the market dynamics and essential data to benchmark your position and to identify where to compete in the future.