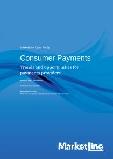 Consumer Payments: Trends and opportunities for payment providers
May 2016 •
27 pages •
Report ID: 4147226 •
Format: PDF
Summary
An overview of the current market dynamics of each of the key trends, and how they will likely develop in the near future. This will highlight key strategies and tactics that players in the payments ecosystem can look to employ to stay ahead of the curve, and explore how each key trend is likely to develop over the next 12 months.

Key Findings
Assessment of the key trends in consumer payments, including mobile wallets.

Analyzing security levels with different services and the threat of cyber-crime.

Identification of future developments within the consumer payment industry.

Reasons To Buy
What are payments services doing to combat cyber-security?

How are point of service terminals evolving?

How are mobile wallets trying to increase market share?

Key Highlights
The buzz surrounding mobile payments remains in full swing, with an ever-expanding array of brands (both established and emerging) competing within the space. However, no provider has so far managed to achieve widespread levels of consumer adoption (especially at the POS). Smartphone maker- and mobile operating system-driven services (such as Apple Pay, Samsung Pay, and Android Pay) are being widely pegged to lead the market ahead of other players given their global brand presence and extensive user bases. Strong emphasis will be placed on positioning mobile wallets as a mainstream alternative to cash and cards, with building merchant acceptance levels being a top priority in the near term. Yet, it will be those mobile wallets that seamlessly integrate into consumers' everyday lives and facilitate a range of transactional possibilities that will gain the most traction. Mobile wallet registration incentives and usage rewards will be commonly used tactics to drive consumer uptake within the space.

There continues to be a great deal of disparity in the level of security employed by payment providers and merchants. Cyber-criminals are threatening the integrity of the payments system by exploiting those with weak and outdated security mechanisms in place. Additionally, the types of malware and phishing scams are evolving at a rapid pace. Regulators and industry standard-setting bodies will issue more explicit rules and guidelines for online and mobile payment security. Cross-industry information sharing initiatives (especially those that promote the sharing of cyber security threat data between government and businesses) will form a crucial part of fraud prevention strategies going forward.

Consumers continue to display increasingly lax attitudes towards information security. Many are either opting to use simple or no passwords, or are re-using strong passwords across multiple platforms for greater account accessibility and convenience. With the threats facing the payments ecosystem mounting, the reliability of static, knowledge-driven authentication inputs (mainly passwords) has been brought into question. Given the great demand for payment services to deliver faster and more convenient shopping experiences, there will be a greater reliance on security mechanisms that sit behind the scenes (such as risk-based analytics). Moreover, technological advancements (especially around mobile) will increasingly give rise to consumer-facing authentication tools that shift away from static passwords towards inherence and possession factors (such as biometrics and app-based dynamic verification codes).