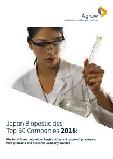 Japan Biopesticides Top 50 Companies 2016
September 2016 •
72 pages •
Report ID: 4220209 •
Format: PDF
Although still a niche market in Japan, biopesticides are rapidly growing and show scope for further significant expansion.

This extensive Agrow report provides detailed insight into Japan's biopesticides market, including an in-depth look at its 51 leading companies, their company profiles and key product sales. It also outlines registration procedures and the data requirements for biopesticides approvals.

Furthermore, the Agrow Japan Biopesticides Top 50 Companies 2016 report examines Japan's registered biopesticides, as well as new and pipeline products, and distribution methods and channels for these major agrochemical companies.

The report's findings show that because antibiotics can be used under the same conditions as chemicals pesticides, they dominate the biopesticides sector. They are well accepted in pre-mixture formulations of insecticides and fungicides, particularly those used on rice. Some 77% of antibiotics are used in pre-mixtures, while 23% are used as straight formulations.

Naturally occurring substances and plant extracts are the next largest sector in terms of sales. Many products in this group are used against greenhouse pests, and have the advantage of not requiring the establishment of maximum residue limits or pre-harvest intervals.

Pheromones are the next major sector and are used to control fruit pests. Japan is a global leader in the production of pheromones.

Sales of microbial-based bioinsecticides are dominated by Bacillus thuringiensis (Bt) for use against lepidopteran pests, although sales growth has been held back by severe competition from chemical pesticides and high prices for farmers.

The most popular microbial fungicide products are based on Bacillus subtilis, and used to control powdery mildew and grey mould in greenhouse crops.