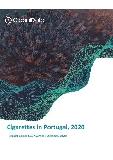 Cigarettes in Portugal, 2020
October 2020 •
49 pages •
Report ID: 4313725 •
Format: PDF
Cigarettes in Portugal, 2020

Summary
Cigarettes in Portugal, 2020 is an analytical report that provides extensive and highly detailed current and future market trends in the tobacco market in Portugal.It covers market size and structure along with per capita and overall consumption.

Additionally, it focuses on brand data, retail pricing, prospects, and forecasts for sales and consumption until 2030.

The cigarette market has slumped and was down at a forecast 10,200 million pieces in 2019 or 65% of its level in 1990. Per capita consumption is also falling back and is forecast at 990 pieces in 2019, or 62.4% of its level in 1990. Philip Morris International (PMI) had already been rapidly gaining share before it purchased Tabaqueira, but after the acquisition its position strengthened further.Volumes are expected to drop by 29.8% between 2020 and 2030, to 6,810 million pieces. Per capita consumption is forecast to fall by 33.1% over this period to 673 pieces in 2030.

Scope
- The market is dominated by PMI, which acquired a majority stake in former state-controlled tobacco manufacturer Tabaqueira in January 1997 and now owns 99.5% of the company.
- The VAT rate was raised to the equivalent of 16% of the retail price and reached an equivalent of 18.7% in 2011, although this was reduced back to 17% in 2017. As of 2020 the equivalent was back at 18.7
- The period since 2017 has been one of declining imports. That year saw a fall of 7.3% to 5,858 million pieces followed by a 0.6% decline in 2018 to 5,825 million pieces.

Reasons to Buy
- Get a detailed understanding of consumption to align your sales and marketing efforts with the latest trends in the market.
- Identify the areas of growth and opportunities, which will aid effective marketing planning.
- The differing growth rates in regional product sales drive fundamental shifts in the market.
- This report provides detailed, authoritative data on these changes - prime intelligence for marketers.
- Understand the market dynamics and essential data to benchmark your position and to identify where to compete in the future.