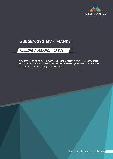 Subsea Systems Market by Subsea Production, Trees, Manifolds, Control System, Subsea Processing, and Region - Global Forecast to 2021
November 2016 •
161 pages •
Report ID: 4402202 •
Format: PDF
"The subsea systems market is projected to grow at a CAGR of 2.02% from 2016 to 2021"
The subsea systems market is projected to reach USD 17.44 billion by 2021, growing at a CAGR of 2.02% from 2016 to 2021. Subsea systems are used in offshore oil production where subsea production systems reduce costs associated with topside facilities, while subsea processing systems work as ideal solutions for enhanced oil recovery in matured offshore wells. Increasing deepwater drilling activities all around the globe is the major driver for the subsea systems market.

Increasing oil discoveries in emerging economies such as Asia and Africa are other major drivers to this market. The growth in emerging economies is attributed to increasing capital expenditures in the countries such as, China, India, Nigeria, Angola, Ghana, and Equatorial Guinea. Kenya, Tanzania, and Mozambique also provide exciting market opportunities.

"The market in Africa is expected to grow at the highest CAGR from 2016 to 2021"
Europe is currently the largest market for subsea systems, followed by South America. The fastest growing market, however, is projected to be Africa, owing to continued deepwater exploration and production activities, particularly offshore Angola. New gas discoveries and field developments in East African waters, offshore Mozambique and Tanzania will also help propel growth in the African market.

"SURF: The largest market for subsea production systems"
SURF constitutes the largest segment of subsea production systems, followed by subsea trees. Umbilical system is a bundled arrangement of piping, tubing, and electrical conductors, which are bounded in armored sheath. Drilling risers provide a channel for temporary extension of a subsea oil well to a surface drilling facility, while flowlines help carry hydrocarbon fluids from the wellhead to the riser. The SURF market will be driven by subsea production activities in the North Sea, South America, and the U.S. Gulf of Mexico.

Breakdown of Primaries:
In-depth interviews have been conducted with various key industry participants, subject-matter experts, C-level executives of key market players, and industry consultants, among other experts, to obtain and verify critical qualitative and quantitative information, as well as to assess future market prospects. The distribution of primary interviews is as follows:

By Company Type: Tier 1—40%, Tier 2—30%, and Tier 3—30%
By Designation: C-Level—30%, D-Level—20%, and Others—50%
By Region: Europe—30%, Africa—20%, North America—15%, South America—15%, Middle East—10%, and Asia-Pacific—10%

Note: The tier of the companies has been defined on the basis of their total revenue; as of 2015: Tier 1 = >USD 10 billion, Tier 2 = From USD 1 billion to USD 10 billion, and Tier 3 =
The leading players in the subsea systems market include Subsea 7 (U.K.), FMC Technologies (U.S.), GE Oil & Gas (U.S.), Aker Solutions (Norway), One Subsea (U.S.), and Technip (France).

Report Coverage
The report provides a picture on subsea systems market across its different technologies and regions. It aims at estimating the market size and future growth potential of this market across different segments such as type, component, technology and region. Furthermore, the report also includes an in-depth competitive analysis of the key players in the market along with their company profiles, SWOT analysis, recent developments, and key market strategies.

Key Benefits of Buying the Report
The report will help the market leaders/new entrants in this market by providing them the closest approximations of the revenue numbers for the overall subsea systems market and the subsegments. This report will help stakeholders to better understand the competitor landscape and gain more insights to better position their businesses and make suitable go-to-market strategies. The report also helps the stakeholders to understand the pulse of the market and provides them information on key market drivers, restraints, challenges, and opportunities.