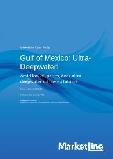 Gulf of Mexico: Ultra-Deepwater. Amid low oil prices, does ultra-deepwater oil have a future?
November 2016 •
26 pages •
Report ID: 4442486 •
Format: PDF
Summary
Global oil price forecasts predict a slow crawl up to $75 per barrel, half of peak price. In response, major oil companies drilling in ultra-deepwater in the Gulf of Mexico have been forced to lower costs, improve efficiency and find more additional oil wells. The slump in oil prices has put the industry into difficulty, inciting concerns as to the long-term future and appetite for further exploration. For ultra-deepwater drilling in the Gulf of Mexico to have a future the industry must undertake substantial reform.

Key Findings
Analyzes the reforms the ultra-deepwater oil industry in the Gulf of Mexico needs to undertake to improve cost effectiveness
Evaluates the potential new sources of ultra-deepwater in the Gulf
Identifies technological advancements which will help the industry survive low oil prices and remain safe


Reasons To Buy
Can the ultra-deepwater industry continue in periods of low prices?
What has to happen to reduce costs and boost viability?
Can ultra-deepwater continue pushing the limits and stay safe?


Key Findings
The cost of oil is predicted to slowly rise, causing problems for the ultra-deepwter oil industry in the Gulf of Mexico. So far the industry has been too slow to adopt standardization and simplification to reduce the massive expenditure companies devote to new rigs and fields. Those companies which have standardized have found extensive savings amounting to over half the cost of a well.

To thrive in a period of low oil prices the industry must take advantage of new technologies which will reduce the costs and time required to drill into the Lower Tertiary layer in the Gulf of Mexico. Whole systems are being integrated into all-in-one setups and Project 20K seeks to develop the means to drill at previously unheard of pressures and temperatures. Such breakthroughs have the potential to allow the industry to prosper even during a period of low oil prices.

Another disaster on the scale of the Deepwater Horizon accident would surely hobble the industry to the point of being almost impossible to operate in. New versions of ROVs and BOPs are being developed which will keep up with ambitions to drill in ever more extreme conditions.