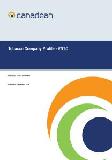 Tobacco Company Profile - VNTC
December 2016 •
25 pages •
Report ID: 4607230 •
Format: PDF
Summary
VNTC is the largest cigarette producer in Vietnam but also one of the largest business enterprises in the country. It is a state-owned holding group, which, since June 2007, has been the only concern permitted to produce, import, and distribute cigarettes and cigars in Vietnam. The company has international partnerships with the likes of BAT, JTI, PMI, and Imperial Tobacco whereby foreign brands are produced under license in VNTC's factories. In the last few years, VNTC has placed increasing focus on building up its exports.

Key Findings
- VNTC's overall sales reached 67.9 billion pieces in 2015, excluding licensed production
- According to VNTC own data, as much as 35% of output destined for sale abroad, 21.8 billion pieces in 2013
- VNTC sold 45.9 billion pieces sold in the domestic market in 2015
- VNTC holds 48.8% of the domestic market with its own brands in 2015


Synopsis
Tobacco Company Profile - VNTC is an analytical company report provides extensive and highly detailed current and future market trends in the cigarette market. It covers market size and structure along with per capita and overall consumption. Additionally, it focuses on brand data, retail pricing, prospects, and forecasts for sales and consumption.

Reasons To Buy
Get a detailed understanding of consumption to align your sales and marketing efforts with the latest trends in the market. Identify the areas of growth and opportunities, which will aid effective marketing planning. The differing growth rates in regional product sales drive fundamental shifts in the market. This report provides detailed, authoritative data on these changes - prime intelligence for marketers. Understand the market dynamics and essential data to benchmark your position and to identify where to compete in the future.