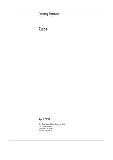 Country Forecast Cuba April 2018 Updater
April 2018 •
Report ID: 470381 •
Format: PDF


Raúl Castro will step down as president on April 19th, but he will remain head of the ruling Partido Comunista de Cuba and the armed forces after leaving power. His most likely successor is the first vice-president, Miguel Díaz-Canel. The government will work to ensure a smooth transition and to support a gradual ongoing economic reform programme. However, The Economist Intelligence Unit does not expect any radical transformation of the single-party political system.
Relations with the US will remain cool following decisions by the US administration of Donald Trump to rollback elements of the earlier rapprochement. We believe that a lifting of sanctions is possible near the end of the 2018-22 forecast period, given a shift in US public and business sentiment in favour of normalisation, supported by Cuban economic reforms.
Population and labour-force growth will stagnate, and the population will age rapidly, reflecting low birth rates, high life expectancy and net emigration. As public-sector jobs are shed, the non-state sector will grow and absorb workers, keeping the official unemployment rate below 4%, although underemployment may emerge as a problem.
There is huge scope for catch-up in terms of economic efficiency and development of new private-sector activities, particularly in the services sector. Growth will be driven by tourism and reconstruction from damage sustained during Hurricane Irma in September 2017. We foresee a gradual acceleration in growth, to 3.8% in 2022, supported by cautious economic reforms, better relations with the EU and renewed access to external financing.
The authorities intend to end the dual exchange-rate system to eliminate economic distortions. We expect authorities to gradually unify the two currencies over a number of years, starting in early 2019.
The greatest uncertainty in the long-term concerns the future of the one-party political system. Our central forecast assumes that the government will retain enough support and introduce sufficient reforms to avert overthrow or collapse. Structural transformation and international integration of the economy will advance, stimulating relatively firm average growth (3.3% per year in 2018-50). Market opportunities will increase, with new scope for trade, joint ventures and other forms of international business ties.