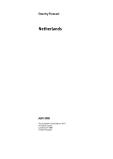 Country Forecast Netherlands April 2018 Updater
April 2018 •
Report ID: 472486 •
Format: PDF


The parliamentary election in March 2017 was followed by more than six months of coalition talks, resulting in a coalition consisting of the People's Party for Democracy and Freedom (VVD), the Christian Democratic Appeal (CDA), Democrats 66 (D66) and the Christian Union (CU). The government is vulnerable to collapse, as it rests on a single-seat majority in both houses of parliament; nevertheless, The Economist Intelligence Unit assumes that it will be able to govern relatively effectively.
Following the UK's departure from the EU, we expect the Netherlands to take up a larger role within the bloc and to try to provide a counterweight to what is likely to be a stronger Franco-German axis.
The coalition programme, which includes tax cuts and reforming the labour market and the pension system, is reasonably ambitious. Furthermore, the new government plans to accelerate the country's transition to green energy.
In 2016 the budget was in surplus for the first time since 2008, at 0.4% of GDP, and it widened to an estimated 1.1% of GDP in 2017. We forecast that it will remain in surplus throughout the forecast period (2018-22). As a result, the public debt/GDP ratio is decreasing rapidly and should fall to just below 45% in 2022.
The economy has definitively left behind the crisis years of 2009-13, growing by 2.6% on average in 2015-17 on the back of a domestic recovery, thereby shaking off a dependency on foreign demand. Growth accelerated sharply in 2017, to 3.3%, supported by the positive external environment and a strong housing market recovery. We expect growth above 3% to be a one-off and forecast that the expansion will moderate in 2018-22, to an average of 2.1%.
Inflation remains weak. Lower energy prices falling out of the base period pushed up inflation in early 2017, but underlying price pressures are still tepid. We expect the strong labour market recovery to start feeding through into wages and inflation from mid-2018, and for inflation to average 1.8% in 2018-22.
The external surplus will remain large, reflecting the country's role as a trade hub and its significant private savings. Nevertheless, we expect the goods trade surplus to fall gradually from 2018, driven by increased import costs, pushing the current-account surplus down to 5.5% of GDP by 2022.