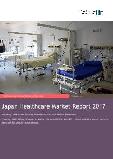 Japan Healthcare Market Report 2017 
February 2017 •
90 pages •
Report ID: 4773226 •
Format: PDF
The top three segemnts in the Japanese healthcare market are hospitals and outpatient care centers with a 55% share, physicians and other healthcare practitioners with 19% share followed by home healthcare and residential nursing care services with 7.5% share of the Japan market.

Japan is the third largest economy in the world and the world's fourth largest economy in purchasing power parity. Japan is the eleventh most populated country with a population of 127 million that accounts for 1.7% of the global population.

Japan had the third highest GDP worth about $4.1 trillion accounting for 5.2% in $73 trillion global GDP. About 26% of Japan's population are senior citizens (above 65 years old) and the average life expectancy rate is 84 years. The Ministry of Health, Labour and Welfare regulates the healthcare industry in Japan. The Pharmaceuticals and Medical Devices Agency (PMDA) is a Japanese governmental organization regulates pharmaceuticals and medical devices industry in Japan.

The term healthcare refers to diagnosis, treatment, and prevention of disease or illness, and other physical and mental impairments in humans and animals. The healthcare market provides products and services to treat patients with curative, preventive, rehabilitative or palliative care.

The top trend observed in the healthcare market as of 2016 was digitalization of medical records. Digitalization of information related to patients including their medical history, diagnoses, medications, treatment plans, immunization dates, allergies, radiology images, and laboratory and test results is being made possible with Electronic Health Records (EHRs). EHRs increase patient participation, and improve diagnostic and treatment outcomes.