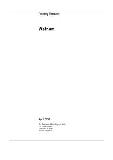 Country Forecast Vietnam April 2018 Updater
April 2018 •
Report ID: 483893 •
Format: PDF


The Communist Party of Vietnam (CPV) will maintain a firm grip on power despite factional splits over economic and foreign policy. There will be no credible threat to the CPV's rule in 2018-22, and the party's opponents-both internal and external-will find it more difficult to voice dissenting opinions.
Vietnam will maintain an omnidirectional foreign policy. Ties with China will be strained owing to territorial disputes in the South China Sea. The author-ities will be keen to cultivate ties with other regional powers, such as Japan and India, to counterbalance China's growing influence in Asia.
Vietnam-US ties will improve in 2018-22, despite lingering US unease over its trade deficit with Vietnam. In view of their common interests in containing China's regional ambitions, bilateral security ties will continue to develop.
The government will continue to restructure the banking sector (owing to the still-high level of bad debts) and state-owned enterprises, but progress will be uneven in 2018-22. Beyond this, efforts at economic liberalisation will centre on international trade, anchored by a handful of significant trade deals.
Fiscal and monetary policy will start to tighten in sync in 2018-19 as the government reduces its wide budget deficit and as the State Bank of Vietnam (the central bank) raises interest rates to mitigate increasing price pressures. However, rates will fall again in 2020-21 as external demand growth weakens.
Vietnam will boast a rapidly growing economy in 2018-22, with real GDP growth expected to average 6.3% a year. There will be a moderation in headline growth due to an increasing drag imposed by net exports.
Vietnam will benefit from the migration of low-cost export manufacturing from China and other foreign investment. Firms will be attracted by Vietnam's stable politics, low wages, reform outlook and participation in key trade deals.
A patchy pick-up in global oil prices, a weakening dong, growing demand-side pressures and much stronger producer price inflation will exert stronger upward pressure on consumer price inflation in 2018-22 compared with 2013-17.
The current-account balance will continue to deteriorate until 2020 and fall into deficit in 2019 for the first time since 2010. This trend will reverse in 2021-22 as the global economy rebounds after the downturn in the US that is expected in 2020. Nevertheless, the current account will remain in the red during both years, owing to widening deficits on the services and primary income accounts.