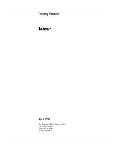 Country Forecast Taiwan April 2018 Updater
April 2018 •
Report ID: 483937 •
Format: PDF


The Democratic Progressive Party (DPP) is likely to retain both the presidency and a majority in the Legislative Yuan (parliament) in the next general election in 2020. This will be a boon to policymaking. However, ties with China are set to become increasingly strained in the next five years.
The DPP will have mixed success navigating popular dissatisfaction with established party politics and a renewed culture of public protest. This will in large part be driven by its prioritisation of medium-term policy goals, whose successes will be incremental and difficult to promote publicly. Nonetheless, the lack of an effective opposition means that it will not lose power in 2018-22.
China will proactively seek to reduce Taiwan's international diplomatic participation. This will lead the DPP to prioritise preserving ties with the US and the security guarantee that it provides. Economic links with Japan will also deepen. Elsewhere it will struggle to strengthen relations, and this will hinder its ability to conclude new trade agreements.
The fiscal deficit will widen in 2018-20, averaging the equivalent of 0.8% of GDP. This will partly reflect the mixed impact of tax and pension reforms aimed at improving wealth redistribution, as well as the expansionary policies of the DPP government, mainly in the form of public housing and infrastructure construction. The deficit will narrow thereafter as economic growth picks up.
Real GDP growth will be supported by robust real increases in household spending and exports over 2018-19. It will slow to 1.3% in 2020, owing to a weakening of export growth linked to a short cyclical downturn in the US economy, but will recover as external demand improves in 2021-22. Public spending on infrastructure and housing will also serve to bolster economic prospects throughout 2018-22.
Consumer price inflation will remain subdued at under 2% in 2018-22. In 2021-22 stronger domestic economic conditions will result in slightly faster price growth, but inflation will still average just 1.8% a year in that period.
Growth in foreign earnings in 2018-22 will be tempered by increasing competition in high-technology exports among Taiwan's regional neighbours, including China. Competitors' strengthening capacities and integration, partly owing to already-established free-trade agreements, will mean that Taiwan's industrial focus continues to narrow to specific cutting-edge segments of manufacturing, as opposed to more extensive vertical integration.