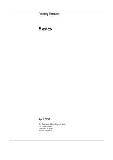 Country Forecast Mexico April 2018 Updater
April 2018 •
Report ID: 486621 •
Format: PDF


The president, Enrique Peña Nieto of the Partido Revolucionario Institucional, who will leave office on December 1st, will focus on maintaining economic stability and defending Mexico's interests in talks to renegotiate the North American Free-Trade Agreement (NAFTA). He and his successor will struggle to boost security amid a rise in crime. Confidence in institutions will remain low after multiple corruption scandals at federal, state and local levels.
Anti-establishment sentiment will boost the chances of Andrés Manuel López Obrador of the leftist Movimiento Regeneración Nacional (Morena) in the July 1st presidential election, which The Economist Intelligence Unit believes is his to lose. There are risks to this forecast, but a fragmented field and the lack of a second round favour the Morena candidate's chances of victory. He has promised to boost public investment and social programmes, while maintaining fiscal discipline, which could prove difficult to achieve simultaneously.
Uncertainty about US trade policy and the July elections will affect business and consumer confidence, and keep GDP growth muted in 2018, at just 1.8%. Growth will pick up in 2019 before slowing notably in 2020 owing to a recession in the US that year. Growth will accelerate to 2.4% on average in 2021-22 as domestic and external conditions improve. The success of structural reforms will be hampered by weak institutional effectiveness under the current and next governments and, in the case of the energy reform, still-subdued oil prices. The latter will constrain fiscal revenue and force restraint in capital spending.
Mexico is undergoing a demographic boom, but the benefits from this will be limited by poor levels of education and the fact that a high proportion of the labour force (almost 60%) is employed in informal, low-productivity jobs. The consumer market boasts an expanding middle class and fairly high income levels compared with most of Mexico's regional peers. However, high levels of inequality and poverty will hold back consumer demand, even though we expect the next government to boost social spending.
Mexico will seek to diversify export markets, but its fortunes will stay tied to those of the US, even if NAFTA should collapse. Foreign direct investment is below the levels of prior years, but will grow as energy and telecommunications reforms become well established. Despite US efforts to reduce the outsourcing of jobs to Mexico, the country will remain attractive owing to low wages, a large internal market, privileged access to the US market and a network of free-trade accords. However, some domestic sectors will struggle, owing to weak competitiveness.