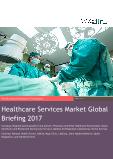 Healthcare Services Market Global Briefing 2017
June 2017 •
38 pages •
Report ID: 4940177 •
Format: PDF
Healthcare services deal with medical and remedial care service. Healthcare services also include furnishing medicine, medical or surgical treatment, nursing, hospital service, dental service, optometrical service and other complementary health services.

Healthcare services comprise hospitals, nursing and community care facilities; home healthcare services; medical and diagnostic laboratories; veterinary services and residential mental health centers. It also includes offices of dentists, physicians and healthcare practitioners.

The market segments in the healthcare services sector as of 2016 were hospitals and outpatient care centers, physicians and other healthcare practitioners, home healthcare and residential nursing care services, medical and diagnostic laboratories, dental services, substance abuse and residential mental health and Veterinary services

One of the major trends shaping the healthcare services market include the usage of Digital Tools. Digital technology has become important for hospitals and doctors to deliver quality care. Digital tools such as telemedicine, apps, and portals for patients and doctors are making healthcare services more efficient and cost-effective. According to a PWC study, doctors felt that more than 10% of in-office appointments can be replaced by e-visits and roughly 75% of doctors said they will prescribe an app to help patients manage chronic diseases.