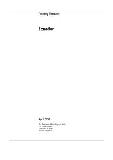 Country Forecast Ecuador April 2018 Updater
April 2018 •
Report ID: 4983718 •
Format: PDF


The president, Lenín Moreno, has garnered increasing social and political support since he took office in May 2017, bolstering governability, despite short-term challenges. Mr Moreno lost the majority held by the ruling Alianza País (AP) in the National Assembly (74 of 137 seats), following a split with AP legislators loyal to his predecessor, the AP founder, Rafael Correa (2007-17). The president, who now has the support of 58 legislators, will govern with the support of smaller opposition parties, which will vote with him on an ad hoc basis.
A modest recovery in oil prices and investment growth in 2018 will encourage the government to take a slower path to fiscal adjustment than necessary to stabilise the rising public debt/GDP ratio. This assumes that large bond inflows materialise to finance the deficit. The government will seek to keep social spending high and protect dollarisation, which remains popular.
The current-account deficit will narrow to 0.9% of GDP in 2018 and reach balance by 2019 owing to increased oil exports. But a global slowdown will prompt a return to a deficit by 2020.
Population growth is slowing owing to a falling birth rate and continued, albeit lower, emigration. However, at an average rate of 1.7% per year in 2018-22, population growth will be on a par with that of neighbouring Andean nations.
Ecuador is one of the smallest markets in our business environment rankings, accounting for less than 0.1 of a percentage point of global GDP and a similar share of exports. However, significant mineral reserves will continue to attract oil and mining investors; The Economist Intelligence Unit expects the domestic market to grow moderately.
Low levels of productivity and a wealth of natural resources offer scope for Ecuador to catch up with more developed countries, if policies are implemented to transform its resource wealth into productive investment in other sectors. We expect income levels to remain below OECD levels in the long term.