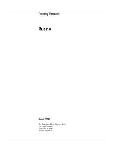 Country Forecast Russia June 2018 Updater
June 2018 •
Report ID: 4984331 •
Format: PDF


Vladimir Putin was re-elected as president for a fourth term in March 2018, securing a record 77% of the vote on a turnout of 67%. Formal political opposition is marginal and will remain so over The Economist Intelligence Unit's forecast period (2018-22).
The government is unlikely to implement disruptive market reforms in the forecast period. Chinese companies are likely to take on a bigger role in the economy, especially in the far-eastern part of the country. However, their access to strategic sectors (such as oil and gas) will remain controlled.
An improvement in US-Russia relations is unlikely in 2018-19 given the intense scrutiny of Russia's alleged interference in the 2016 US presidential election campaign and new sanctions imposed by the US against Russia in 2017-18.
We do not expect the Minsk II agreement to lead to a comprehensive settlement of the conflict in eastern Ukraine in our forecast period, and certainly not before the 2019 Ukrainian parliamentary and presidential elections.
We expect US and EU sectoral sanctions on the Russian defence, energy and financial sectors to remain in place in 2018-22. Russian counter-sanctions on Western food imports will also remain in place. Additional US sanctions on Russia, for instance targeting sovereign debt, are possible, yet hard to predict.
After it contracted in 2016 the economy grew by 1.5% in 2017, supported by higher global oil prices and a recovery in household consumption. We forecast growth of 1.7% in 2018, driven by private demand and investment.
After six years of deficit, the government budget will return to a small surplus in 2018 as higher global oil prices boost fiscal revenue. Despite social pressure, the government will reduce spending as a share of GDP in 2018-22.
The current account is structurally in surplus owing to oil and gas exports. We forecast that it will rise to 3.7% of GDP in 2018, from 2.2% in 2017, supported by higher global oil prices and import substitution programmes.
The medium-term growth outlook will be constrained by structural weak-nesses, including a lack of competition, high state involvement in the economy, low investment levels, international sanctions, an ageing and declining workforce, and a weak rule of law.