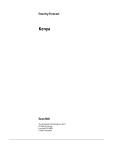 Country Forecast Kenya June 2018 Updater
June 2018 •
Report ID: 4984335 •
Format: PDF


The inauguration of Uhuru Kenyatta for a second five-year term in November 2017, following a rerun of the presidential election in October, signals an improvement in political stability.
A surprise reconciliation in March between Mr Kenyatta and the main opposition leader, Raila Odinga, cements a more stable political scene. Their agreement ends a campaign of defiance and non-co-operation launched by Mr Odinga and the National Super Alliance (Nasa), which boycotted the presidential election rerun, and shifts the focus from last year's disputed contest towards the next election in 2022. However, the reconciliation is unsettling both Nasa and the ruling Jubilee Party as neither Mr Odinga nor Mr Kenyatta consulted their allies.
Other challenges to political stability are security risks associated with terrorism (and ethnic rivalries), and institutional turf wars arising from reforms in the new constitution introduced in 2010. A clearer separation of powers and the devolution of authority to the county level may boost accountability over time, but will also continue to fuel power struggles between and within the various arms of government.
Growth will quicken slightly to 5.3% in 2018 (from 4.9% in 2017), underpinned by better rainfall and an end to electoral uncertainty, which stifled activity. However, slow credit growth will persist, pending a change to a controversial rate cap. We expect growth to accelerate to 5.8% a year on average in 2019-22, barring drought, driven by higher public and private investment and household demand.
Inflation is expected to retreat to 5.5% in 2018, from a five-year high of 8% in 2017, when food prices soared in the wake of drought. We expect inflation to range between 6.2% and 6.9% in 2019-22, and to average 6.5% a year during the period.
Kenya's business environment will become more accommodating during the forecast period, underpinned by pro-market reforms such as deregulation, the formation of public-private partnerships and trade liberalisation.
Rising disposable income per head will fuel demand for retailing (including groceries and durable goods)-creating new openings for manu-facturers and importers-and for a wide array of services, such as telecom-munications, banking, insurance, health and recreation.