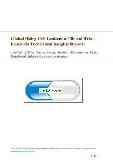 Global Hairy Cell Leukemia Clinical Trials Research Trends and Insights Report- Analysis of Trial Phases, Status, Markets, Recruitment, Types, Enrolment, Intervention and Companies
September 2017 •
62 pages •
Report ID: 5139462 •
Format: PDF
Hairy Cell Leukemia clinical trials report from VPA Research provides comprehensive analysis and trends in global Hairy Cell Leukemia disease clinical trials. The research work analyzes the evolution of Hairy Cell Leukemia clinical trial trends across countries and regions.

The report focuses on drugs and therapies being evaluated for Hairy Cell Leukemia treatment in active clinical development phases including phase 1, phase 2, phase 3 and phase 4 clinical trials. The report also provides trials information by region, key countries, phases, trial status and sponsor types.

Our experienced database team dynamically updates the clinical trials data from several sources including Clinical trial registries, conferences, journals and company releases etc. Further, data is presented in user friendly manner to enable readers quick access to Hairy Cell Leukemia clinical trials.

Scope of the Report-
- Number of Hairy Cell Leukemia clinical trials across regions- Asia and Oceania, Europe, Middle East Africa and Americas
- Trial information by Phase and Subjects recruited
- Trial information by status, type, sponsor type
- Drugs used for treatment of Hairy Cell Leukemia
- Both observational and interventional trials analyzed
- Success rates of trials are analyzed
- Trends in enrollment over the past ten years identified
- Leading sponsors of Hairy Cell Leukemia clinical trials worldwide are listed

Reasons to Buy
- Track competition and design competitive advantages
- Identify right partners to associate with for further research
- Evaluate potential opportunities available in further clinical trials of the disease
- Formulate business development strategies through success rates of clinical trials
- Identify quick markets for recruiting subjects based on trials count by each market

Executive Summary

Hairy cell Leukemia is a relatively rare disease with treatments receiving orphan drug status. It shows a slow growth pattern and is found in around 2% of adult leukemia patients. The disease is caused due to accumulation of lymphocytes – mostly in bone marrow, but occasionally can infiltrate to liver and spleen.

The chronic disease results in decline of healthy WBCs, RBCs and platelets as a result of accumulation of malignant cells. Though origin of the disease is unknown, it is generally presumed that the malignant cell develops from memory B cell compartment.

As the surface looks messy and hairy under microscope, the type of Leukemia is termed hairy cell Leukemia.