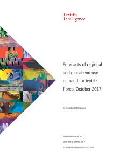 Forecasts of global end use demand for textile fibres, October 2017
October 2017 •
13 pages •
Report ID: 5159477 •
Format: PDF
End use demand for textile fibres equates to the consumption of textile fibres by the final consumer. As such, it represents a valuable tool for measuring textile trade and demand by consumers on a worldwide, regional and national basis. This report draws on data supplied by the International Cotton Advisory Committee (ICAC) to analyse recent trends in textile fibre prices and end use demand by region.

It also includes indispensable textile fibre demand forecasts up to the year 2025. In 2017 global end use demand for textile fibres is expected to rise. Underlying the rise will be an increase in end use demand for man-made fibres as little growth is expected in cotton.

Geographically, the bulk of end use demand in 2016 was in developing countries, and the share of these countries is set to rise in 2017. Much of the rise in share will be due to an increase in demand in Asian developing countries. In industrialised countries, cotton will account for a much higher share of end use demand than it will on a worldwide basis, indicating a preference for cotton clothing in these countries. However, end use demand for cotton in these countries will decline during the year.