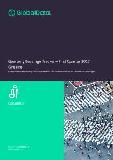 Quarterly Beverage Tracker First Quarter 2017: Greece
May 2017 •
24 pages •
Report ID: 5206821 •
Format: PDF
Quarterly Beverage Tracker First Quarter 2017: Greece

Summary
GlobalData's Greece Quarterly Beverage Tracker Q1-17 covering soft drinks, dairy drinks, hot drinks and alcoholic drinks is an essential tool for keeping up-to-date with the latest industry performance and developments on a quarterly basis, covering:

- Top line consumption volumes for Q1-2017 vs Q1-2016, moving annual totals (MAT), full year 2016 provisional data and 2017 forecasts for all beverage categories.
- Carbonates consumption data for Q1-2017 vs Q1-2016, moving annual totals (MAT), full year 2016 provisional data and 2017 forecasts split by regular vs low calorie, and key flavor.
- An economic mood indicator with an at a glance assessment of industry confidence levels, private label performance vs brands and price trends.
- Insightful and valuable analysis of the drivers behind the latest quarterly trends and assumptions for full year 2017.

Scope
- Based on preliminary data, ELSTAT's (Hellenic Statistical Authority) prediction for the 2016 GDP stands at -0.1%
- KEPE's prediction for Q1-17 GDP is 2.0% and even better for Q2-17, provided that an agreement is reached and the government moves quickly
- The Bank of Greece officially released a new 2017 GDP prediction at 1.5% compared to the previously thought 2.7%, as the effects of the prolonged negotiations may put the economy in jeopardy and even towards recession
- With no agreement reached yet, the economy suffered further with reduced consumption and less revenues for the government
- First signs indicate a recovery of the Greek tourism industry for 2017.

Reasons to buy
- Gain an in-depth understanding of the most up-to-date trends in the Greece beverage industry to support and enhance your strategic planning.
- Investigate the latest quarterly and emerging annual trends in Greece to back your marketing initiatives.
- Analyze the latest beverage category 2017 forecast projections to make well-informed decisions on the outlook in the marketplace for your company.
- View a selection of the key quarterly new soft drinks product launches and identify competitor activity.
- Access a quarterly Special Focus on a current industry 'hot topic' offering qualitative insight from local consultants to determine opportunities for product innovation.