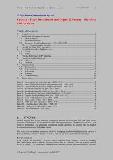 Croatia - Fixed Broadband and Digital Economy - Statistics and Analyses
December 2017 •
11 pages •
Report ID: 5242210 •
Format: PDF
Croatia benefits from having effective competition between the fixed-line DSL and cable access platforms, while there is also a vibrant market for fibre deployments in a number of urban areas.

As a result of competition and continuing investment among operators, the country has the highest broadband penetration in the Balkans region.
This report provides updated analyses on Croatia's developing broadband and digital media markets. It provides offering a variety of statistics as well as forecasts for fixed-line broadband subscribers.

Key developments:
- T-HT trials G.fast technology
- Telekom Austria acquires Amis Telecom
- VIPnet to introduce DOCSIS3.1-based services
- Optima Telekom merges with H1 Telekom
- Novi-Net granted national WiMAX licence
- VelaTel Global Communications expands wireless broadband capacity
- regulator awards more funding to promote rural broadband
- GTS Central Europe extends fibre network through Croatia
- Amis Telekom builds fibre network in Zagreb
- report update includes the regulator's market data to June 2017, telcos' operating and financial data to Q3 2017, recent market developments.

Companies mentioned in this report:
T-Hrvatski Telekom (T-HT), B.net, VIPNet, H1 Telekom, Optima Telekom.