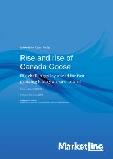 Rise and rise of Canada Goose: Big challenges lay ahead for fast growing luxury apparel brand
January 2018 •
25 pages •
Report ID: 5308330 •
Format: PDF
Rise and rise of Canada Goose: Big challenges lay ahead for fast growing luxury apparel brand

Summary
Despite being in business for over six decades, the rise of Canada Goose came seemingly out of nowhere. Rapid growth over the past few years has seen the company go from relatively unknown beyond niche groups to being worn by high-profile celebrities and the wealthy.

Having achieved notoriety as a desirable brand at the heart of conspicuous consumption, the continued growth of Canada Goose relies upon the company overcoming a series of challenges. Although some matters are beyond control, signs are the Toronto-based firm is making the correct decisions to continue double-digit growth for the immediate future.

By kitting out entire film crews and casts working in cold climes, Canada Goose successfully launched the brand into the consciousness of the wealthy and famous.

Branching out into physical stores marks a key time in the transition the company hopes to complete, from market intruder to established presence.

A problem for a luxury brand that suddenly strikes widespread popularity is the danger of consumers over spending to gain access to the product range.

Scope
- Explores how the sudden growth occurred.
- Examines the problems caused by counterfeits.
- Looks at social attitudes towards the use of fur in apparel.
- Assesses the importance of new product lines to continued success.
- Explores the development of physical stores.
- Examines how much the company is dependent upon consumer debt.

Reasons to buy
- How did the luxury brand strike mainstream success?
- What are the threats to future growth?
- Will physical stores keep the company growing?
- Can new product lines repeat earlier successes?