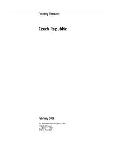 Country Forecast Czech Republic February 2018 Updater
February 2018 •
Report ID: 5308487 •
Format: PDF


In the October 2017 general election the centrist ANO movement won the largest share of the vote and 78 out of 200 seats in the Chamber of Deputies (the lower house of parliament). Andrej Babis, the leader of ANO, is struggling to build support for a minority government owing to concerns in the other parties about the legality of his business affairs. However, The Economist Intelligence Unit expects him to succeed eventually, given the lack of other options.
We expect a significant degree of policy continuity. Despite Mr Babis's populist style, ANO is primarily technocratic and pro-business, with no particular ideological slant. We expect continued efforts to reduce tax evasion, increase transparency in public procurement and streamline the state apparatus. Foreign policy will remain pro-EU, despite tensions over migrant relocation plans.
We estimate a 0.7% of GDP budget surplus in 2017, as strong employment and wage growth supported tax revenue and administrative bottlenecks held back capital spending. We expect a gradual decline in the surplus in 2018-19 and a return to small deficits-albeit well within 1% of GDP-in 2020-22.
Real GDP growth accelerated to an estimated 4.5% in 2017, from 2.5% in 2016. We forecast 3.3% growth in 2018, driven primarily by household consumption (the result of a tight labour market and strong wage growth), gross fixed capital formation and robust external demand. In 2019-22 we forecast annual average growth of 2.5% as the economy eases back to its potential rate.
In the longer term income convergence will further reduce the unit labour cost differential with western Europe, eroding cost advantages for exporters and prompting greater policy-led efforts to attract investment into high value added industrial sectors. Less EU funding will be available in the 2021-27 fiscal period, owing to the exit from the bloc of the UK, a major contributor to the EU budget.
We forecast 2.5% average annual inflation in 2018, driven by a positive output gap and intensifying labour shortages on the demand side, and higher oil prices on the supply side. However, price growth will be kept in check by monetary tightening and an appreciating koruna. We expect the Czech National Bank (CNB, the central bank) to maintain its tightening cycle through to 2019.
The Kc27:EUR1 ceiling on the value of the koruna was lifted in April 2017. The currency is appreciating against the euro, and we expect this trend to continue over the medium term, given robust economic growth and rising interest rates. We do not expect the Czech Republic to adopt the euro in our forecast period (2018-22).