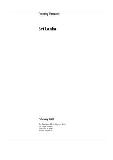 Country Forecast Sri Lanka February 2018 Updater
February 2018 •
Report ID: 5313258 •
Format: PDF


The Economist Intelligence Unit expects the coalition government, which has been in office since 2015, to fracture after a new constitution is passed at a national referendum later this year.
Our core election forecast is that no single party will emerge with a simple majority, leaving the key political forces scrambling for partners to form what is likely to be another coalition government. We forecast that a populist party, the Sri Lanka Podujana Peramuna (SLPP, Sri Lanka People's Front), will grow in strength at the expense of the centre-right Sri Lanka Freedom Party, which is currently part of the "national unity" government. We believe that a candidate aligned with the SLPP will become president in 2020.
The emergence of populist political movements will impede the coalition's efforts to improve relations between the Sinhalese-Buddhist majority and the Tamil, Muslim and Christian minorities.
Sri Lanka faces the challenge of balancing ties with China and India, as the latter two compete fiercely for political and economic influence on the island through investments in infrastructure.
The government will make progress on implementing IMF-mandated economic reforms and narrowing the budget deficit in the early part of the forecast period. However, the process of fiscal consolidation will be halted after the IMF programme ends in 2019.
Real GDP will rise by 5.1% a year on average in 2018-22. The rate of economic expansion will accelerate significantly in the second half of the forecast period as government efforts to boost exports pay off and the authorities put the brakes on fiscal consolidation.
The Central Bank of Sri Lanka will gradually adopt a new exchange-rate and inflation-targeting framework. We believe that this policy change is credible. This fact notwithstanding, the Sri Lanka rupee will continue to lose value against the US dollar, albeit at a slightly slower rate than previously forecast. We expect the Sri Lanka rupee to depreciate from an average of SLRs158:US$1 in 2018 to SLRs175.3:US$1 in 2022.
Despite the implementation of an IMF programme, Sri Lanka will face considerable macroeconomic risks resulting from wide deficits on the fiscal and current accounts, as well as relatively low international reserves. The slow rate of recovery in inflows of workers' remittances, along with a widening goods trade deficit, will add to pressures on the current-account balance in 2018-22.