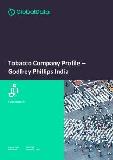 Tobacco Company Profile - Godfrey Phillips India
December 2017 •
35 pages •
Report ID: 5336471 •
Format: PDF
Tobacco Company Profile - Godfrey Phillips India

Summary
"Tobacco Company Profile - Godfrey Phillips India", is an analytical company report by GlobaData that provides extensive and highly detailed current and future market trends in the cigarette market. It covers market size and structure along with per capita and overall consumption. Additionally, it focuses on brand data, retail pricing, prospects, and forecasts for sales and consumption.

Godfrey Phillips India Ltd (GPI) is the second largest cigarette manufacturing company in India and an associate and licensee of Philip Morris International (PMI). In recent years, it has extended its tobacco activity into the chewing tobacco sector and is also the leading cigar supplier in India, importing and distributing for several leading cigar companies. Moreover, GPI is active in the unmanufactured tobacco sector and the company also has a tea division and a small convenience store operation.

Scope
- Godfrey Phillips is largely a domestic company, although one with ambitions to become a major regional player, and exports several of its brands.
- Godfrey Phillips India operates in several business areas. These include the manufacture and marketing of cigarettes, chewing tobacco, and cigar products; the importation and distribution of cigars for other cigar companies; unmanufactured tobacco and tea.
- GPI has three cigarette factories and held a 14.7% share of the domestic cigarette market in 2016/17, including the licensed Marlboro, which it manufactures and distributes on behalf of its minority shareholder Philip Morris International.

Reasons to buy
- Get a detailed understanding of consumption to align your sales and marketing efforts with the latest trends in the market.
- Identify the areas of growth and opportunities, which will aid effective marketing planning. The differing growth rates in regional product sales drive fundamental shifts in the market.
- This report provides detailed, authoritative data on these changes - prime intelligence for marketers.
- Understand the market dynamics and essential data to benchmark your position and to identify where to compete in the future.