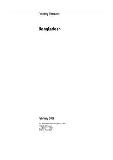 Country Forecast Bangladesh February 2018 Updater
February 2018 •
Report ID: 5336999 •
Format: PDF


The Economist Intelligence Unit expects that the Awami League (AL) government will win a majority in the legislative election scheduled for late 2018. We expect the Bangladesh Nationalist Party (BNP) to participate in the upcoming elections. The BNP will keep pressing for a caretaker government to oversee the election, but the AL is unlikely to accept this demand.
Small, religiously motivated incidents of violence will occur frequently in 2018-22, and there is a strong possibility of larger armed attacks. The appeal of Bangladesh to foreign investors will remain vulnerable to such episodes and related bouts of social and political unrest. However, the security forces will prevent any marked deterioration in law and order.
Foreign policy will focus on ties with key regional players. Political and economic ties with India and, to a lesser extent, Japan will continue to deepen over the forecast period. Relations with China will also be strong, with a particular focus on economic, investment and trade ties.
Policymakers will accord a high priority to improving electricity supplies but will continue to face challenges in meeting demand. Private electricity producers will achieve some success in this area, but power rationing will continue in 2018-22 as rising industrial and consumer demand outstrips increasing capacity.
The government will continue to run budget deficits throughout the forecast period. With the exception of an interest-rate increase in the second half of 2018 aimed at arresting inflation, we expect Bangladesh Bank (the central bank) to maintain a broadly accommodative monetary policy stance during the forecast period.
Real GDP growth will average 6.8% a year in fiscal years 2017/18-2021/22 (July-June), bolstered by sustained gains in private consumption and investment. Private consumption will be supported by rising personal incomes (from a still-low base). Government spending will also increase ahead of the 2018 elections.
The trade deficit is forecast to narrow to US$9.7bn in 2022, from an estimated US$12.1bn in 2017, owing to stronger growth in readymade garment exports. This will be driven by a continued shift in low-cost manufacturing away from China, as well as a pick-up in demand from major markets such as the US and the EU.
Growth in remittances will be modest over the forecast period, as fiscal consolidation and immigration-curbing policies in Gulf countries exert a drag on remittance inflows. This, coupled with a wide trade deficit, will result in a current-account deficit equivalent to 1.2% of GDP on average in 2018-22.