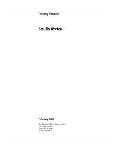 Country Forecast South Africa February 2018 Updater
February 2018 •
Report ID: 5337008 •
Format: PDF


The African National Congress (ANC) will remain the dominant political force and is likely to retain power at the next election in 2019, albeit with a smaller majority than in 2014. The election by the ANC of Cyril Ramaphosa as its new leader in December will boost the party's prospects, although his influence will be constrained by Jacob Zuma's retention of the national presidency.
The election of Mr Ramaphosa, a moderate pragmatist, has positive implications for politics, society and the economy. His victory increases the chances of Jacob Zuma's second term as national president being cut short before the 2019 elections: recent developments suggest a negotiated departure may be imminent.
Policymakers face the difficult task of boosting economic growth within a context of global uncertainty, while avoiding macroeconomic imbalances. Adding to the challenge, South Africa faces the risk of further credit downgrades (and therefore costlier borrowing) and will struggle to restore budget discipline without higher taxes, which will impose further constraints on growth.
The main medium-term challenge is to overcome structural constraints to faster growth, such as infrastructure bottlenecks and skills shortages. Targeted industrial incentives and infrastructure investment will remain a priority.
Compliance with black economic empowerment targets will remain a challenge for corporates, especially given ongoing changes to the legal framework. Policy uncertainty will remain at a high level, to the detriment of private investment, although the election of Mr Ramaphosa as the new ANC leader offers hope of more significant reforms and is giving a timely boost to confidence.
The Economist Intelligence Unit expects a modest acceleration in real GDP growth to 1.5% in 2018, but the rate of expansion will be lacklustre, held back by a challenging fiscal situation, and the persistence of political and policy uncertainties.
Economic growth will remain subdued in 2019 at 1.7%, constrained by election-related uncertainties, before quickening to about 2.5% a year in 2020-22, underpinned by the completion of major infrastructure projects. Electricity shortages are unlikely to reappear during the forecast period.
Inflation is forecast to average 5.1% in 2018, helped by a recovery in the rand since Mr Ramaphosa's election as the new ANC leader. Thereafter, inflation will average 5.6% during the remainder of the forecast period.