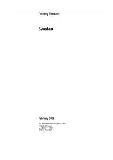 Country Forecast Sweden February 2018 Updater
February 2018 •
Report ID: 5345113 •
Format: PDF


A coalition government comprising the Social Democratic Party (SAP) and the Green Party has been in office since 2014 and The Economist Intelligence Unit expects it to last its full term, until September 2018. This centre-left coalition, which replaced the four-party, centre-right Alliance for Sweden government, has a smaller parliamentary minority than its predecessor, owing to a rise in the number of seats gained by the far-right Sweden Democrats (SD), which holds the balance of power in parliament.
Under new leadership in late 2017 the Moderate Party announced that it would only accept parliamentary support from the SD, rejecting a potential coalition with the party. In response, the SD indicated that it would not provide support without involvement in policymaking. This prevents the centre-right parties from forming a government after the election in September 2018, if current polling trends prevail. The election is likely to deliver another hung parliament. Whichever of the blocs (red-green or Alliance for Sweden) ends up with the most seats is likely to try to form a government, but such a minority government will be weak, and political instability is likely to continue into the next four-year term.
Defence and security are likely to be at the top of the political agenda ahead of the election. The campaign will probably focus on integration of immigrants, law and order, and gang crime. The latter has been growing over the past few months and is more prominent in migrant neighbourhoods.
In 2016 the Riksbank (the central bank) cut its main policy rate to -0.5% and launched a quantitative easing programme that ran until end-2017. Until July 2018 the bank will also intervene, if necessary, in the foreign-exchange markets to offset appreciation pressures on the krona that would jeopardise its inflation target. We expect monetary policy to remain extremely accommodative, but forecast that the bank will increase interest rates in 2018 for the first time since 2011.
We anticipate a gradual slowdown from real GDP growth of 3% in 2016. In 2017 growth is estimated to have decelerated to 2.6%, and in 2018 we expect it to stand at 2.4%. Private consumption and investment will remain core drivers of growth, but will ease slightly, reflecting the housing market correction that took place in late 2017. In 2019-22 real GDP should grow by an average of 2.3%.