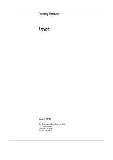 Country Forecast Egypt March 2018 Updater
March 2018 •
Report ID: 5365330 •
Format: PDF


The president, Abdel Fattah el-Sisi, who The Economist Intelligence Unit expects to win the March-April presidential election, will maintain his tight grip on the political process, assisted by a loyal security apparatus and a co-operative parliament, which is dominated by pro-government political forces. Our forecast entails a decline in the incidence of protests and labour strikes as the painful side effects of the government's economic reform agenda continue to subside. The government will be able to contain any residual risks to internal stability-linked to violent opposition by Islamist groups-with the help of the security apparatus.
The economy grew by 5.2% year on year in real terms in the first quarter of the 2017/18 (July-June) fiscal year-driven by industry and services. The outlook should continue to improve owing to an expected surge in domestic natural gas supply and a sharp decline in costly fuel imports. The latter should increase US dollar liquidity, with a positive ripple effect throughout the economy.
The government will continue to diversify its donor base and focus on boosting local and foreign investment. It will try to encourage investment by introducing a new, more pro-business legal framework, although such efforts could meet some opposition from powerful interest groups within government.
With the support of Mr Sisi, economic policy will shift from a focus on stimulus to more moderate spending increases (in real terms) throughout most of the forecast period. Financing constraints will prove a major setback to the government's ambitious public investment programme and job-creation targets, prompting increased reliance on private investment and external financing.
We forecast that the fiscal deficit will narrow, albeit gradually, from 11% of GDP in fiscal year 2016/17 (July-June) to 5.6% of GDP in 2021/22, as new tax measures broaden the government's revenue base and spending is reined in by subsidy cuts.
The adoption of a floating currency regime in November 2016 means that the Egyptian pound has largely converged on its true market value. However, in the following years we expect the pound to regain some strength, reflecting increased confidence in the fundamentals of the economy and rising natural gas production.
The current-account deficit as a proportion of GDP will narrow throughout the forecast period, owing in part to the growing domestic natural gas supply and a reduction in costly fuel imports.